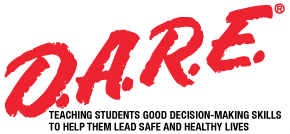 SALEM POLICE DEPARTMENT
OFFICE OF THE CHIEF OF POLICE
36 EAST CALHOUN STREET
SALEM, VIRGINIA 24153
TELEPHONE 540-375-3010 FAX 540-375-4015

SALEM POLICE DEPARTMENT
Accredited by the Virginia Law Enforcement Professional Standards Commission

Officer Hammond
pbhammond@salem.k12.va.us
The City of Salem Schools and the City of Salem Police Department, in conjunction with the Virginia Department of Education and the Virginia State Police, provide our City of Salem school children with the highly acclaimed D.A.R.E. (Drug Abuse Resistance Education) program. D.A.R.E. was founded in 1983 in Los Angeles, CA. and has been so successful that D.A.R.E. is being taught in 80 percent of the nation's school districts and in more than 54 countries around the world. The City of Salem was one of thirteen departments in the Commonwealth of Virginia to pilot the D.A.R.E. program in 1986 with Officer B. R. Nunley.

The D.A.R.E. program educates students about the personal and social consequences of substance abuse and violence. The D.A.R.E. program in Salem schools is one of the most comprehensive in the Roanoke Valley. Our children become acquainted with "their" D.A.R.E. Officer in kindergarten class and receive classroom visitations through fourth grade. In 5th grade students receive classroom instruction from the new state-of-the-art D.A.R.E. curriculum. The curriculum also contains information and knowledge that correlates with Virginia's Standards of Learning (SOL). Upon completion and graduation from the Elementary D.A.R.E. program Salem students receive additional D.A.R.E. instruction including classroom visitations at Andrew Lewis Middle School during their 6th and 8th grade years. The D.A.R.E. Middle School curriculum is also provided at Salem High School, typically during the student's 10th grade year, as part of their health curriculum.

D.A.R.E.'s primary mission is to provide children with the information and skills needed to make safe / responsible decisions and to live drug and violence free lives. D.A,R,E. also establishes positive relationships between the students, law enforcement, teachers, parents, and the community. D.A.R.E. "humanizes" law enforcement officers and makes them approachable to our children. D.A.R.E. goes beyond traditional drug abuse and violence prevention programs. Salem Police Department D.A.R.E. officers go through an interview and selection process prior to an assignment within the City of Salem Schools. D.A.R.E. Officers receive specialized training in areas such as child development, classroom management, teaching techniques, and communication skills specifically designed for interaction with students, parents, and the educational community.